---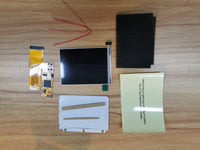 Huge Difference!
No need to worry about not having enough light source to play your favourite games.
Worked perfectly! Thanks!
Worked perfectly! Thanks!
Easy install
This shop is amazing, I needed some parts to start a new game boy advanced build and didn't know where to buy parts in Australia that would get to me fast. One search away I found this excellent store. I was very sceptical but right after placing that order I was amazed. The order came in 2 days, shipping was super fast but that is nothing compared to the excellent customer service that was provided. After emailing them I can say that I was now very comfortable and confident that what I was about to get was something amazing.
I got a new shell, ips screen, USB c battery and amp mod which all worked beautifully and was a breeze to install. The amp mod I got was the basic version but after placing the order the wonderfull people there upgraded me to the pro version which was yet to be up on the store for sale.
Normally I would say I'm going to shop with them again in the future but… I've gone ahead and placed another order with them for some extra bits and bobs to fully complete this GBA.
All I can say is, if you want excellent customer service and great products with shipping to match, go for these guys. It's a no brainer
Cheers guys at retro gaming parts